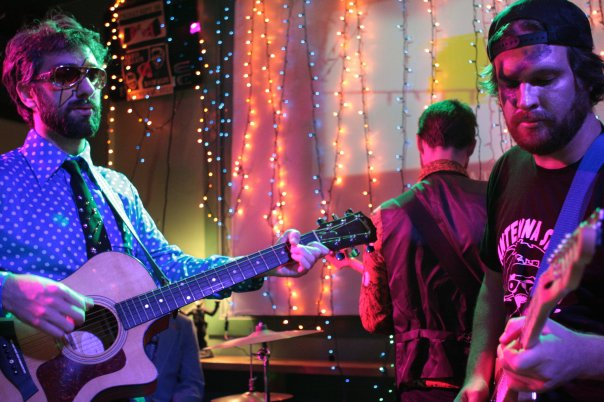 A surprising thing happened back in 2006, the year that Snowglobe broke up: they made another record.
Well, sort of.
The album, Oxytocin, was released nationally and was the 9th most added record on college radio in May of that year. Touted as a solo project for Brad Postlethwaite, but still released under the name Snowglobe, the idea was to have the other members follow suit with their own solo directed albums. A record release show happened at The Hi-Tone, but was billed simply as Brad Postlethwaite.
Although Snowglobe had a loyal following and was considered on-the-verge, the pressures of approaching the end of his twenties and realizing that making records wasn't exactly paying the bills was becoming more apparent to Postlethwaite, so he told his band mates that he planned to stop touring and return to the University of Memphis to prepare to enter their Phd. program. In the eyes of co-leader Tim Regan, Postlethwaite was in essence quitting, so Regan, who very much wanted the band to continue, quickly found a replacement in Luke White of the Coach and Four. However, before the addition was even announced, drummer Jeff Hulett decided that he had also tired of the road and planned to begin working on a solo project. Regan packed up and moved to Knoxville and as far as anyone knew, that was the end of Snowglobe. But according to Postethwaite, he never realized that he was quitting the band.
"I was very confused as to what was actually happening with Snowglobe, because I wasn't able to continue with the way things were going" he says. "There was this kind of all or nothing thing going on, I had to be able to drop everything I was doing or just not be in the band."
In addition to the break-up of the band, Postlethwaite found himself at a crossroads in his relationship with his long-term girlfriend. With two major parts of his life in limbo, he found himself with a lot of free time on his hands. He began writing songs and working on old Snowglobe songs that had been left off previous albums Doing the Distance and These Land Brains. He was still friends with everyone who had been in the band and naturally they fell back into the same patterns of playing together. Before the band broke up there had been an idea tossed around of each member directing a solo album under the Snowglobe moniker. Postlethwaite began accumulating so much material that he decided to reintroduce the idea.
In the end, although the record clearly says Snowglobe on the cover, the definition of what Snowglobe was to become had to be redefined. In addition to Hulett on drums, bassist Brandon Robertson and trumpet player Nashon Benford, a wide array of Memphis musicians pitched in on Oxytocin, including Luke White on guitar, Aaron Sayers on drums, Jonathan Kirkscey on cello, Mark Stuart and Chang Li on double bass, J.D. Reager on drums and guitar, Anna Acosta on violin, and John Whittimore on pedal steele guitar.
"I'd go into Unclaimed Recordings and it started off that whoever was there would play on the songs" says Postlethwaite. "At one point every drummer I had ever worked with was in the room so it as very awkward trying to decide who was going to play on it. The band was still changing drastically but I still decided to keep the name."
The outcome was the most cohesive album Snowglobe had ever released. Postlethwaite's songs had always been more orchestral pop than the indie rock output of Regan, and they flowed more evenly without the change-ups in songwriter. With a plethora of instrumentation including flute, euphonium, violin, cello and even saw, the record is lush and layered, upbeat and melancholy as it explores Postlethwaites' relationship not only with his girlfriend but with his family and friends. The album was named after a hormone referred to as the "love" hormone.
"Ocycotin is this hormone that kind of, well they don't know exactly what is does, it's not like a hormone can make you love someone, but it's involved with sex, with child bearing, with social memory…" Postlethwaite explains. "They have experiments where people have been giving Oxcytocin nose spray and it makes them more trusting, but most of the experiments show that the hormone is directly related to monogamy."
So, the man who was left with nothing the year before, not only reconnected with his band, but he was also able to sort things out with his once girlfriend and current wife who acted as muse for many of the songs on the album. The only thing missing was Regan.
"I wanted him to be involved, and for him to participate and be part of the band like he was" says Postlethwaite.
Regan and Postlethwaite did end up smothing things over,  and three albums have been released under the Snowglobe moniker since Oxytocin, and there is already another record recorded and waiting to be released.
Even though Regan was left reeling from the irony of the situation, he moved on and formed a new band called Antenna Shoes, which coincidentally was backed by fellow Snowglobers Bedford and Robertson, along with White, Paul Taylor on drums and Andy Grooms on keys. The band put out an album on Shangri-la Projects before Regan moved again, to Austin, TX this time, to join indie darlings, Oh No Oh My. But it seems Snowglobe will always be close to Regan's heart.
The band has had many reunion shows over the past 5 years and continues to make music together today, most recently headlining Rock for Love 6 this month.