"MEANWHILE IN MEMPHIS: The Sound Of A Revolution" is directed DIY-style by Memphians Robert Allen Parker and Nan Hackman. After a chance meeting at a Hi-Tone show in late 2005 where they were each separately filming the night's live music, Robert and Nan eventually started a Memphis music documentary film project together.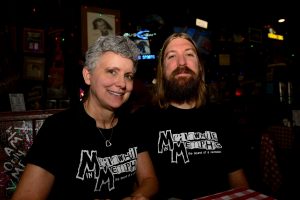 With no budget or previous film experience, they simply wanted to make this documentary for the love of the music & the city. They have spent over 6 years compiling material & conducting over 100 interviews.
Robert Allen Parker is a Memphis guitarist who has had experience playing with artists such as Earl "The Pearl" Banks (blues), Hope Clayburn (funk), Rufus Thomas (soul), Gasoline Grace (rock), Leroy Hodges & Howard Grimes (Hi Rhythm Section) and Denise Lasalle (r&b) to name a few. For over 10 years, he has worked at the Memphis Music store on 149 Beale Street that specializes in blues, soul, gospel, and early rock'n'roll music.
Nan Hackman is a videographer who has filmed a variety of Memphis performance art ranging from dance troupes to rock'n'roll bands to theatrical plays. Besides co-directing the film, she is the hands-on editor.